Miller Law Office's main office is in Sun City, Arizona. Ms. Miller is licensed in Arizona, with local counsel providing services from the satellite office in Moscow, Idaho.
Company History
Ms. Miller, and her associates, have been in practice ( see resume ) since 1998, when she opened her first office in Moscow, Idaho.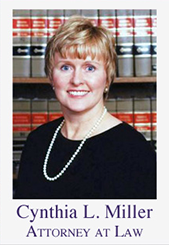 Practicing Law in Arizona & Idaho
Witnesses to Wills in Washington state
Q: I thought the witness did not have to actually see the person sign their will that in the state of Washington the signor of the will only had to acknowledge to the witness that they did sign their will…
A: Typically, lawyers like to use what is referred to as "best practice," having the witnesses actually watch the testator sign the will, and vice versa, using two witnesses, and a notary, and preparing the witnesses' affidavit, as well. This insures that the wills are then valid in other jurisdictions, not just (in your case) WA State.
Closing dads bank account
Q: My dad died in November 2011 and I need to close his bank account, however, the bank told me I need an "affidavit" along with the death certificate to close the account but when i asked what kind of "affidavit" they couldn't tell me exactly what it was….. any help would be great!
A: Likewise, if there will be no probate, and dad only had the bank account to close, 14-3971 may apply (Collection of Personal Property by Affidavit). You have to prepare, or have a lawyer prepare for you, an affidavit that conforms to this particular statute, stating the following:
made by or on behalf of the successor and stating that all of the following are true:
Thirty days have elapsed since the death of the decedent.
Either:

An application or petition for the appointment of a personal representative is not pending and a personal representative has not been appointed in any jurisdiction and the value of all personal property in the decedent's estate, wherever located, less liens and encumbrances, does not exceed fifty thousand dollars as valued as of the date of death.
The personal representative has been discharged or more than one year has elapsed since a closing statement has been filed and the value of all personal property in the decedent's estate, wherever located, less liens and encumbrances, does not exceed fifty thousand dollars as valued as of the date of the affidavit.
The claiming successor is entitled to payment or delivery of the property.
In the absence of a probate, this may be what the bank is referencing.
My mothers boyfriend of 18 yrs is the executor, if he doesn't pay the bill who is responsible, him, or ME, her next of kin?
Q: My mom and "dad" were together for 18 yrs, (not my bio dad) he is listed as the executor. but he has always made bad monetary choices…i.e. buying large screen TV's and laptops, in stead of making house payments! now, if he goes by the will he has, HE says the money is his, and HE is responsible for the bills. but I have been told that by being the actual daughter and next of kin, if he doesn't take care of a bill, they will come after ME?!?
A: Once probate is filed, and the executor is appointed by the court, and given Letters Testamentary (legal authority to act on behalf of the estate) – or the equivalent in your jurisdiction – the executor has a fiduciary duty to carry out the business of the estate. You have no legal obligation to anyone else's creditors to pay their debts, unless you co-sign and obligate yourself, whether for a parent, a sibling, a child, or anyone else.
Your mother's assets, and debts, at the time of her death, would be her estate's, not any other person's, until probate is settled, unless she left an estate plan that seamlessly transferred everything to an individual, such as by trust, with a pour-over will, and she had completely transferred all assets into the trust, leaving nothing to probate.
It is possible that "dad" means that the Will names him as executor, and he is also named as sole beneficiary. You say he is listed as the executor; it sounds like you either have a copy, or access to it. You should be able to read the Will and determine who the beneficiaries are. The Will determines the beneficiaries.
Hope this answers your question – I am sorry for your loss.